Questions to The Swedish Bulgarian Chamber of Commerce about Vitalis
Why did you decide to participate at Vitalis this year?
– The Swedish Bulgarian Chamber of Commerce decided to attend Vitalis this year also bringing some of the best companies from Bulgaria that's active in the digital healthcare sector in different ways. We believe that there are great possibilities for partnerships and business.
What are your expectations, participating at Vitalis?
– We expect a lot of great new contacts and business opportunities and also to get a better idea of the digital healthcare landscape in the Nordics.
In what way is Vitalis an important meeting place for you, and why should our visitors/delegate visit your stand?
– Vitalis is a great meeting place for anyone that's in the healthcare sector. The Bulgarian pavilion has a vast variety of companies anything from advanced software developers to communication companies covering the whole of Europe.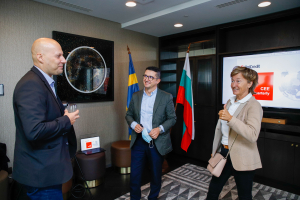 Description of the companies: 
1. Bulbera is an award-winning IT company with many projects in the Health and Wellbeing sectors. Vitalis is a perfect match for the company which expects to find new partners during the event. During Vitalis, Bulbera will make the world premiere of its new project in agetech and wellbeing called JoinedInCare (www.joinedincare.com) or JiC. The project aims to facilitate the life of elderly people and their families, providing high-quality care at home.
2. United Partners provides strategic counseling, corporate reputation, brand communications, event management, public affairs, digital and customer strategy consulting, and digital communications. United Partners has developed a network of agencies across EMEA to add even greater value to their clients and partners offering in-depth analysis, individual approach, and excellence in local implementation of communications campaigns and digital solutions. Working together with clients from different branches of the healthcare system we have developed a language that helps us recognize, define, and translate the communications needs of the healthcare business.
We find the most effective solutions while complying with all regulations that are applicable to our partners' activities. With care and thought of the reputation and the relationship of our clients with their target audiences, we tell stories, present innovations, open new scientific horizons and build trust. We sincerely believe that our cooperation with each client is a step towards more accessible and better health care. Taking part in Vitalis Conference will help us to know more about the latest solutions in healthcare and social Welfare.
3. BGO Software is a European leader in digital health consultancy and product development. We are passionate about technological innovation in mHealth applications for patients, clinical research systems, and pharmaceutical manufacturing intelligence. Being part of Vitalis is an opportunity for us to meet with like-minded professionals, exchange ideas, and be part of the digital transformation of the European health sector."
4. Motion Software is a globally-dispersed organization of high-profile engineers and business consultants who work with some of the most innovative tech companies in the world. Our job is to provide key expertise and guidance to growing startups and large multinationals in the areas of eHealth, Finance, Blockchain, Big Data, Automation, and Artificial Intelligence. Thus far, the company's portfolio includes both corporations and funded startups from the US, England, Israel, the Netherlands, Germany, Latvia, and Bulgaria. We view our participation in this year's Vitalis as an excellent opportunity to experience eHealth trends in real-time and build brand recognition within the Nordic region. Last but not least, we look forward to forming meaningful, authentic business relationships with leading healthcare and research institutions, software leaders, and thriving startups within the industry."
5. Stara Zagora – a green, modern and dynamic European city. Stara Zagora is one of the most developed economic centers in Bulgaria with leading Bulgarian and European companies in the field of mining, energy, mechanical engineering, electronics, health sector, food industry, woodworking, textile, and automotive industries. The city has a very good potential for the development of R&D activities, automotive, ICT, and agriculture sectors.
To address the consequences of the transition to a carbon-neutral economy, the Municipality of Stara Zagora will focus its policy on stimulating investment in research and innovation activities and promoting the transfer of modern technologies. That is why we expect our participation in Vitalis 2022 exhibition to enable us to successfully promote the city and the region as an investment destination where companies can find administrative support and take advantage of the cost-efficiency of doing business and also develop Stara Zagora as a center of high technology where investors can benefit from the highly qualified labor force and the scientific potential of Trakia University. The Investment Department within the Municipality supports potential investors to ease their access to the market and to the local economy and also actively participates in the development of Stara Zagora city as modern, innovative, intelligent, and green city, attractive to young people and businesses.