The Moto Tiles has won Innovation of the year for eldercare and for its novel automatic generation of personalized training protocols for seniors with dementia!
The Moto Tiles won in the category Innovation of the Year – Dementia Solution, for what is known as the Oscars of the eldercare industry. Also known as the Asia Pacific Eldercare Innovation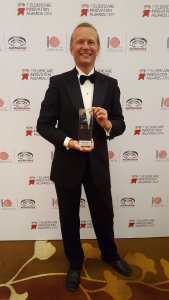 Awards, the awards recognize the best in eldercare product and service delivery. The award was given during the gala for the Oscars of the eldercare industry at Marina Bay Sands, Singapore on 15th May 2019.
With the Moto Tiles, a new big data approach is used to develop a system that can automatically analyze seniors health and provide personalized training protocols to address the individual areas in need of training. This allows a simply way for any therapist and care worker to address the individual needs for physical and cognitive training of seniors with dementia.
As scientific effect studies in the form of randomized controlled trials have shown the highly significant effect on both physical and cognitive abilities from even short-term training on the Moto Tiles, it is possible to automatically extract protocols, which will ensure improvement on either physical abilities or cognitive abilities, according to which of these abilities the 2-minutes Moto Body & Brain Age test show is in need of improvement. Even short-term training on the Moto Tiles with the protocol will provide improvement for the user. Indeed, the scientific effect studies show that seniors increase the balance test score with 150% after merely 4 hours Moto Tiles play, and that they significantly improve strength, mobility, agility and endurance; and scientific effect studies show that seniors improve their cognitive skills significantly after just 5 hours Moto Tiles play. With the "small is smart" design of the Moto Tiles, the training can be performed in care institutions, activity centers, rehab institutions, workplaces, or even as a service in the private homes of the seniors.
After a period of training with the Moto Tiles according to the automatically generated protocol, the user can again perform the Body & Brain Age test to measure improvements, and a new personalized protocol is generated according to the current level of the user.
The award makes us very proud of this new development, and it gives us encouragement to bring the Moto Tiles out worldwide to frail and strong seniors, seniors with dementia, cardiac patients, stroke patients, cancer patients, citizens with PTSD, children with cerebral palsy, ADHD, sports injured, etc. – simply to all citizens worldwide who want fun, joyful and motivational exercise to become happy and increase quality of life.
Henrik Hautop Lund
Professor, Technical University of Denmark
President, Entertainment Robotics